Tags
Related Posts
Share This
HP Edges Up To Color Inkjet
by Henry Freedman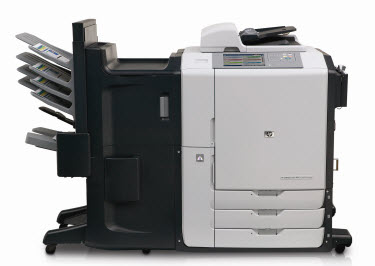 Hewlett-Packard, the global leader after 25 years of mastery in inkjet R&D, has set a near-term target of bringing this technology to a printing plant floor near you. In fact, you could have it in an office printing device, the CM8060/8050, which HP swears is a multi-functional printer (print/copy/scan). But the true science of this product—along with the speeds and the printing industry's typical definitions—place it squarely in the role of an entry-level digital color inkjet press.
While its performance is hobbled by a lack offront-end RIP options (you can only use the onboard office RIP), the CM8060 nevertheless qualifies as a light production device, readily usable for up to 50,000 color printed sheets monthly on plain paper and on certain off-the-shelf coateds. Perhaps more importantly, it's a new print process option.
The CM8060 listed at $23,530. Expect to pay 7¢ per 8.5×11´´ sheet. A utility company beta tester told the Wall Street Journal when it "recently produced100 copies of a 235-page manual for their utility service crews, it cost $2,081." A 10´´ flat panel displays videos and prompts users; LEDs direct operators to internal machine areas.
With $1.4 billion invested in scalable print technology, expect HP to offer soon a more rugged and industrialized inkjet presses spun from the CM8060's unique technology. Users need to test the drying capability with each stock. HP liquid ink expands substrate options. Running process color using the best imaging mode yields 23 spm at 600×1200 dpi. This resolution is accurate and honest as we tested with a resometer. To optimize quality, the press adjusts speeds based on images, stock characteristics and image size/coverage relationships—changing output rates based on ink drying and other factors.
Low-coverage-area work prints as fast as 71 spm at 600×600 dpi. HP has built in potential for outputting JPEG-type photoprint files. The next-generation technology challenges dry-toner electrophotography because inkjet eliminates photoreceptors, fuser rolls and oils, toner development, transfer stations/belts, lasers and optical systems. HP has figured out how to apply a linear array of microscopic nozzles to precisely spray ink onto paper rotating on a cylinder, holding the sheet below a stationary line of print heads.
CM8060 detects if droplets hit wrong or are missing, and corrects on the fly. An integrated inline densitometric closed-loop, color-measurement system makes corrections based on production circumstances, measuring processcolors before ejecting the sheet from the print engine. To do this at speeds up to 71 spm requires amazing software, a lot of computing horsepower and advanced sensing/detection technology.
Subscribe to Henry Freedman's Technology Watch newsletter

Click here.